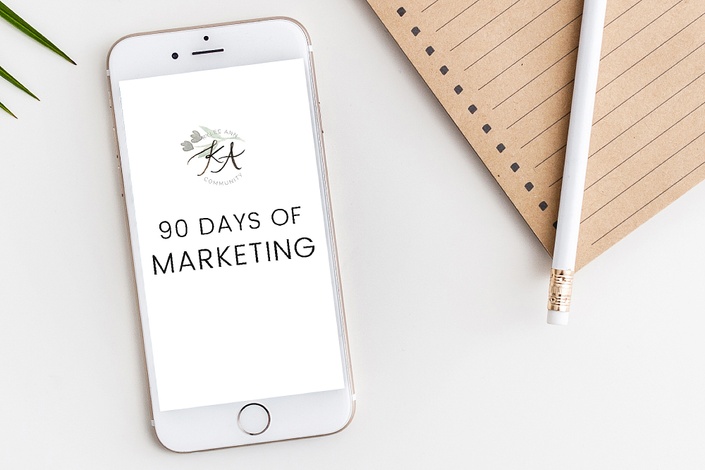 90 Days of Marketing | Daily Prompts
Simple, straightforward and effective action steps to market your business every single day for 90 days. Learn how to market online and network along the way!
I started out my photography journey making $35 per session.
The time and energy that I put into my photography business was huge! I loved it, but I needed a breakthrough fast or I was going to burn out quick. I discovered a way to fill my pipeline with clients - and not just a few clients. I've collected 500 leads and we've booked 75 brides THIS YEAR and my prices are not low.
How? By using a simple, inexpensive, authentic marketing techniques that WORK for small businesses like ours. And the best news is, I've taken all those techniques, packaged them up into an amazing step-by-step plan.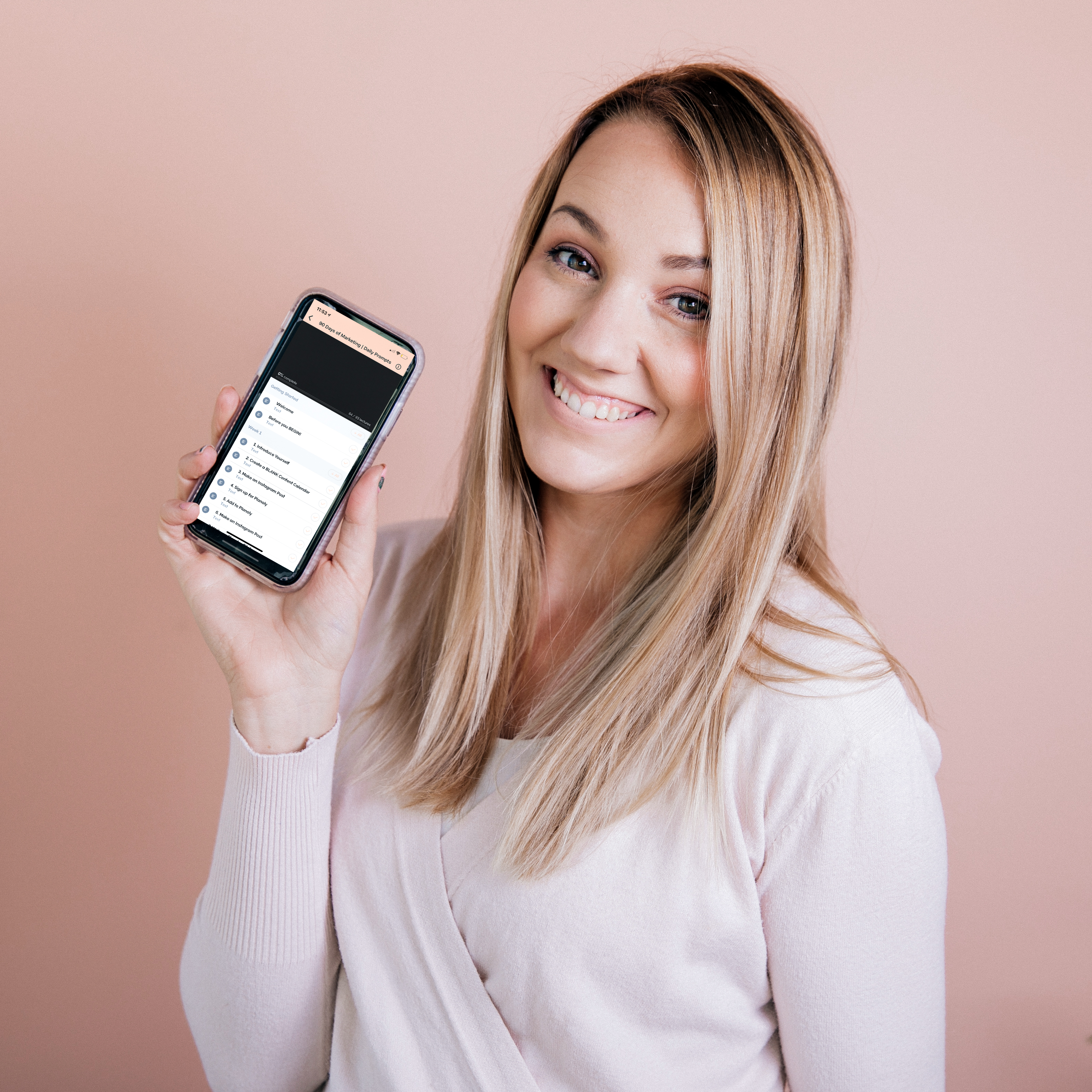 "When I signed up I had just had my stillborn angel baby and literally nothing on the books for the rest of the year since I had planned a long maternity leave. I needed a way to keep myself busy and create to cope. Before i signed up I averaged about 200 visits to my website monthly and rarely got bookings through it. Now that the 90 days are up and I've finished up all your prompts I average nearly 700 hits to my site and had a completely booked September and October with only one opening in each December and November. People found me through google. People booked because they had a connection with me. I had been wanting to bring more "me" into my business, since that is the only thing that distinguishes me from any other photographer - but wasn't sure how to get started. Thanks for showing us the stepping stones to take. I have the next two months of blog posts already planned and scheduled. Thanks for being so willing to share your knowledge. You're the best! I'll miss the daily emails, but I'm confident I'll be able to carry on from here on out! Thank you again!"
-- Whitney
ALL photographers can solve their marketing problems by using 90 Days of Marketing because it's simple, straightforward and effective.
Photographers will be emailed one action step to market their business every single day for 90 days. It's the same framework I used to grow from a $35 photographer to a fully booked associate team!
Learn how to show up everyday no matter what that looks like
Use your personality and be authentic
Provide SO MUCH VALUE for your clients and followers.
Spread your content out over many platforms!
90 days of prompts will focus on:
building online presence
blogging
client interaction
networking with new businesses and vendors
improving Pinterest strategy
getting to the top of Google search
starting an email list
and more.
If you're too busy, confused, under-booked or just unorganized, this is MADE FOR YOU!
"I have bought hundreds of dollars worth of marketing courses and invested in a ton of education. This is the only thing that I've actually followed through with. I feel like I'm actually doing stuff and it's making me busy and happy. You're a genius Kylee. This is the best thing out there!" - Amber
"This is one of the greatest courses I have ever invested in. I actually watch the my phone for the email some mornings. Having a small chink to do every day is helping me form the habit of continuously working on my marketing while keeping it manageable as the pregnant mama of three littles. Thank you" - Kinsey
"Still haven't quite got my Pinterest all "business"-ed up but I've been trying to be more active. I started at 20 monthly viewers a week ago and already at 1.3k. Yay for 90 days of Marketing" - Shalae
"You guys! I never get clients from Instagram - which is fine. But a chick found me on there BECAUSE of my about me blog post, messaged me about pricing. I just got back from a consultation with her where we talked for AN HOUR and really connected. SHE BOOKED! She said she loved how personable I was and she could tell I have a love for my craft and clients. I'm so happy. This has been the best investment I have ever made for my business." *two weeks later*".....I just booked my second shoot in a week from people who I have no connection to. they both found me on some type of online platform!" - Whitney
"This is way more fun that I was expecting. The community in here is just AWESOME!"
"I've literally booked FOUR top-pricing clients this week. I'm blown away -- and the thing that stuck out for one of these clients? My personal blog post that had NOTHING to do with photography but everything to do with vegetarian food in Disney World. Why did they choose me as their photographer? Because they could tell I had a passion for Disney, found my blog post helpful, could tell I know my way around the resort (where their photos will be taken), all while also being an excellent photographer. Lesson Learned: your personal blog posts needn't be about what you do. Just be YOU. You'll attract the best clients for you, because they'll love YOU." -Lauren


Simply check your email, follow the prompt and watch your business grow. Added bonus: learn new tricks and establish incredible habits along the way. Already know what you're doing? I get it. But creating a marketing plan takes sooo much time. Trust me I just created my 90 day plan ;) You are worth it. Your business is worth it. Your time is worth it.
Frequently Asked Questions
I literally just started my business last month. Will this work for me?
Absolutely. You may need to hustle a bit harder than the majority, but this is completely possible…and will definitely jump start your business if you stick to the plan. If you run out of content to use, go out and make content. If you don't have clients to blog, plan personal shoots. You can make this successful no matter what. I believe in you.
I have been in business for 15 years but I've lost my groove. How will this help?
First of all, marketing as changed a lot in 15 years. What used to work doesn't work anymore. This would be a great way to learn new marketing tricks, create better habits and repurpose the hundreds of sessions you have waiting to be on the internet.
Your Instructor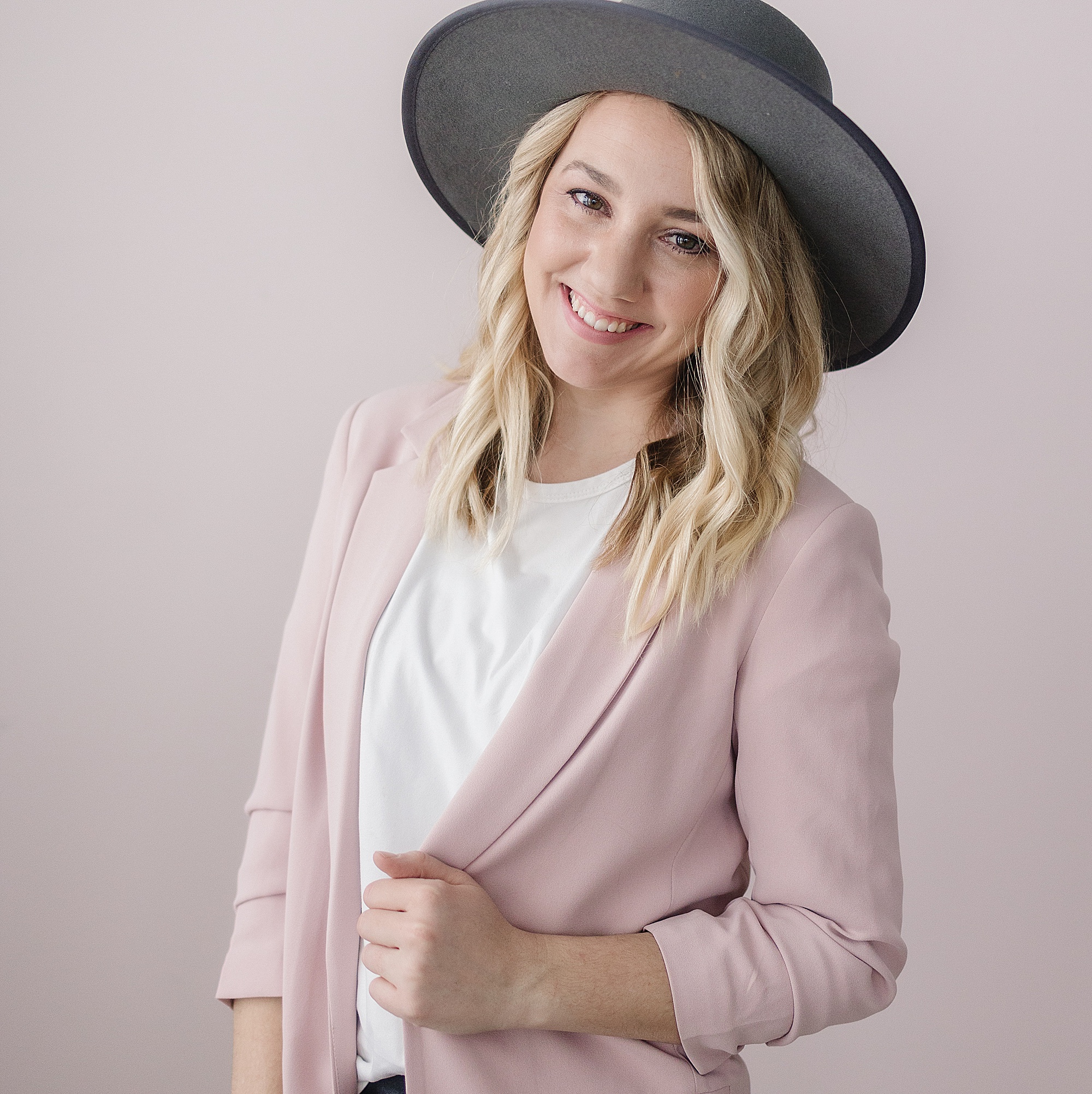 Kylee is the owner and coach of the Kylee Ann Team, full-time brand photographer and coach for women in business.
Kylee started Kylee Ann Studios over a decade ago, and has since grown from a one woman amateur show to a full associate team. After a year of teaching Intro to Photography at the local technical college, she discovered that helping other entrepreneurs create thriving businesses is what fires her up! She hosts semi-annual Kylee Ann Sleepovers all over the US, speak at conferences and teach online courses about running a small business and marketing.